Beautiful airy matthiola is gaining popularity among florists. Gorgeous inflorescences and exquisite petals look charming in flower arrangements, but more often, matthiola is presented as a mono bouquet. It is hard to find a more romantic and delicate flower with a unique delicate aroma. At quite affordable prices, matthiola is ideal for interior decoration, especially in rustic or country style.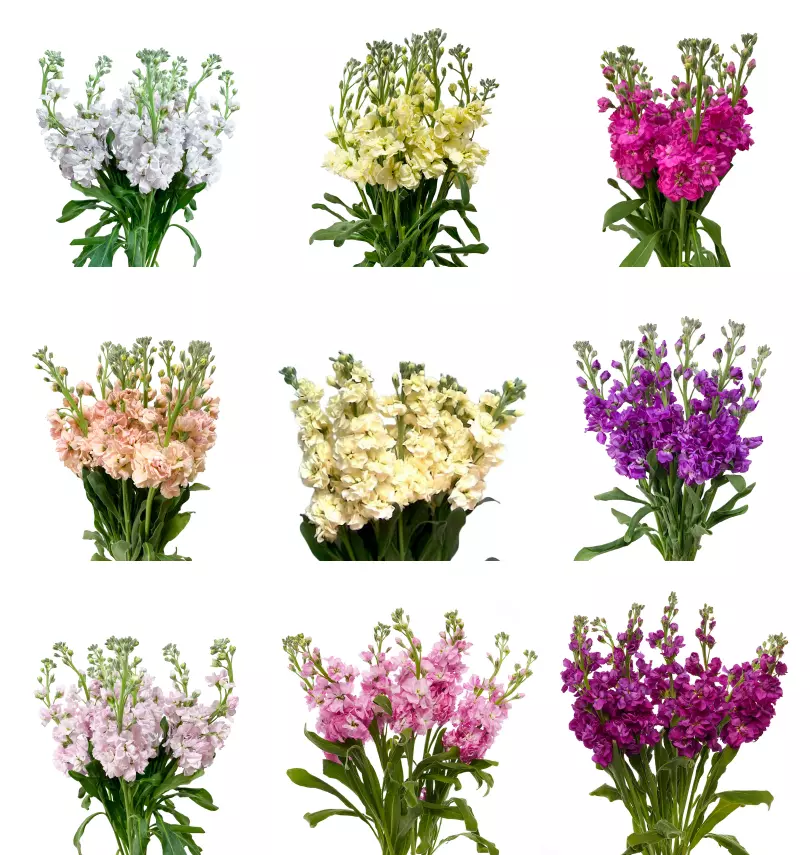 Unlike other countries, favorable natural conditions allow matthiola to be grown in Ecuador all year round. Having selected the farm-producer you like, you will not have to worry about the seasonality of production, and you will be able to receive this wonderful flower at any time of the year. In the Netherlands, for example, matthiola is not in season now, so we recommend paying your attention to the Ecuadorian flower. Ecuadorian matthiola has a higher stem length (mostly 70 cm) and a higher flower part.
In Ecuador, farms mainly produce a species of matthiola known as matthiola incana. However, most often in the offers of Ecuadorian producers this flower can be found under the name stock. Therefore, on our website you can also find matthiola under the name stock both in the flower catalog and on the platform of daily offers from farms.
Ecuadorian farms offer matthiola in a length of 70 cm and in the following shades:
It should be noted that matthiola is an annual plant. After several months of flowering, the farms completely remove old bushes from the soil and then, analyzing the latest trends in the flower market, as well as demand, select shades of matthiola for subsequent production. Therefore, please note that from time to time farms may change the shades of matthiola they offer. Mattiola can be ordered both in mono-color boxes and in mixed boxes.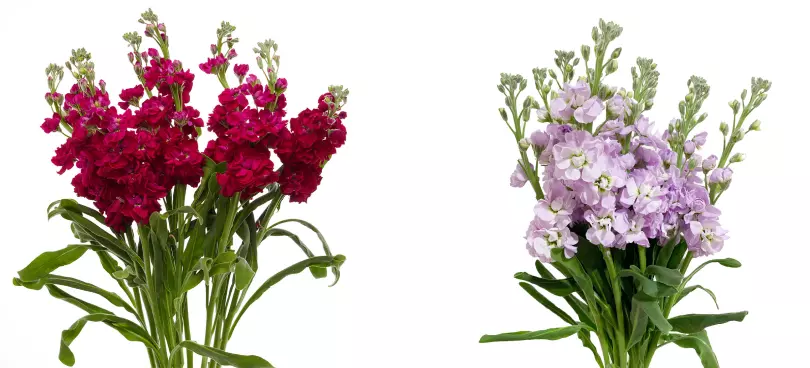 The most commonly preferred packaging of Matthiola by our customers is 120 stems in a QB (Quattro Box). However, upon request, plantations can also pack 200 stems per HB (Half Box) and 60 stems per EB (Eighth Box).
Matthiola is considered a flower that is delicate enough to be transported, so we are faced with the fact that many customers are afraid to order matthiola from Ecuador due to the long-term transportation. But we hasten to inform you that after several trial deliveries from various Ecuadorian farms, we received quite favorable reviewsabout a number of Ecuadorian matthiola producers we can now recommend to our customers.