Quite often we receive requests from our new and current customers for a purchase of rose of 120 cm and above.
The majority of our customers prefer flowers 50-100 cm long.
Colombia and Ecuador basically operate in the same lengths of 50-100 cm. Kenya supplies shorter flowers: 40-80 cm, the longer flowers from Kenya is the very rare cases.
However, there is a chance to execute an order for 120 cm.
The most common varieties in these lengths are red and white: Freedom, Explorer, and rarely if ever - Mondial.
An execution of a customer order for 120cm roses is possible, but not on a permanent basis.
It depends on the situation on the flower market and on the weather conditions. In case if the customer has placed an order composed of varieties 120 cm length only, most probably we will suggest to vary this order with the shorter positions, since there is a chance to be left with nothing if 120 cm is not available on the market.
This is a particularly true problem during pre-holiday shipment before St. Valentine's Day and March 8.
This is an exhibition sample of a long stem flower from plantation Natuflora, Colombia.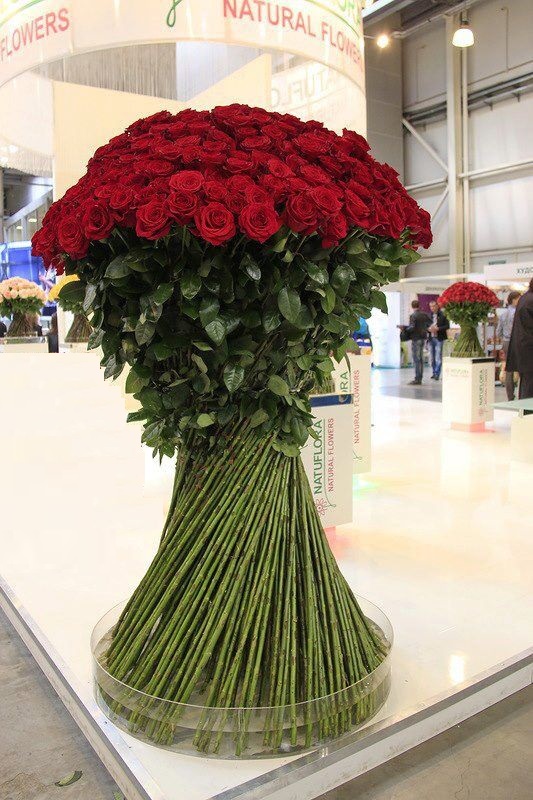 Some of the farms are agreeable to conclusion of the personal standard orders for this type of roses.
As a rule they bundle a certain quantity of simple and regular varieties – mixes or color/red roses of shorter stem lengths with the demanded long ones.
Personal Standard Order is usually made for some period of time and for all negotiated positions, including simple ones, but at just above-market prices.
It is up to the customer to decide is it a better deal, whether such a standard order is profitable for him or not. Each customer makes a decision based on the demand of his retailers', small wholesale buyers' and preferences in their region.
Logistics requirements:
120 cm stem length flowers are usually packed into the bigger boxes than traditional ones. When loading this type of boxes into the airplane, the airlines consider the rate according to the volumetric formula applied to the heavy and volume pieces that increases (sometimes significantly) the cost of transportation.
Transportation of flowers in oversized boxes increases the risk of mechanical damage.
If the customer orders 120 cm stem length rose just in order to expand his product range and these positions are not the dominant, we recommend buying them from the free market.
You can buy them yourself on our Online Trading Platform or you can entrust Daoflowers with this purchase for you.
In any case, just set us the right task, we will always find a solution and offer the most qualitative option for expanding your range, both of lengths and varieties.