We would like to present to your attention a new series of hydrangea varieties from the Magical Series collection from Ecuadorian farms. The series is represented by four exclusive Dutch varieties from the breeder Kolster BV of exclusively natural colors: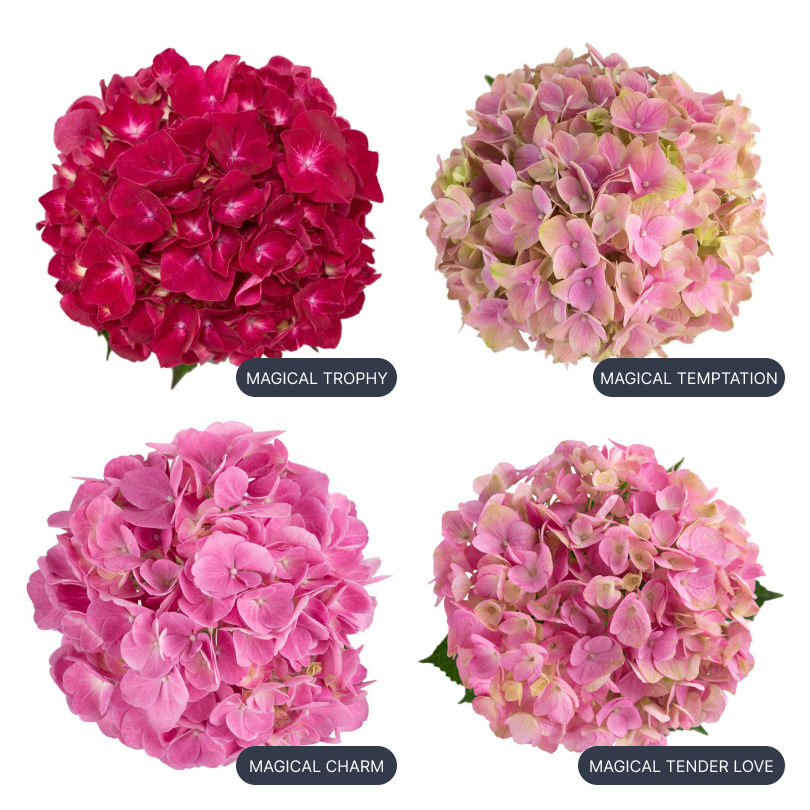 The Magical Trophy variety appears in farm offers in mono boxes while other varieties are more often offered at the moment in mixed boxes due to the still low-volume production.
This hydrangea is available in various bud sizes with a diameter from 12 cm to 22 cm and a length of 50-60 cm.
Hydrangea is packaged in QB (Quattro Box) and EB (Eighth Box) boxes:
18-22 сm - QB x 20 stems / EB x 10 stems
15-17 сm - QB x 20 stems / EB x 10 stems
12-14 сm - QB x 25 stems / EB x 12 stems
The great advantage of Ecuadorian products is the possibility to produce such hydrangea all year round, in contrast to the seasonality inherent in Dutch products.
These products can be found on our website in the on-line offers. However, to more precisely meet your preferences, we recommend placing your orders a few days before departure from farms.
If you are interested in this product, for any questions and to calculate the price please contact our managers.
ф